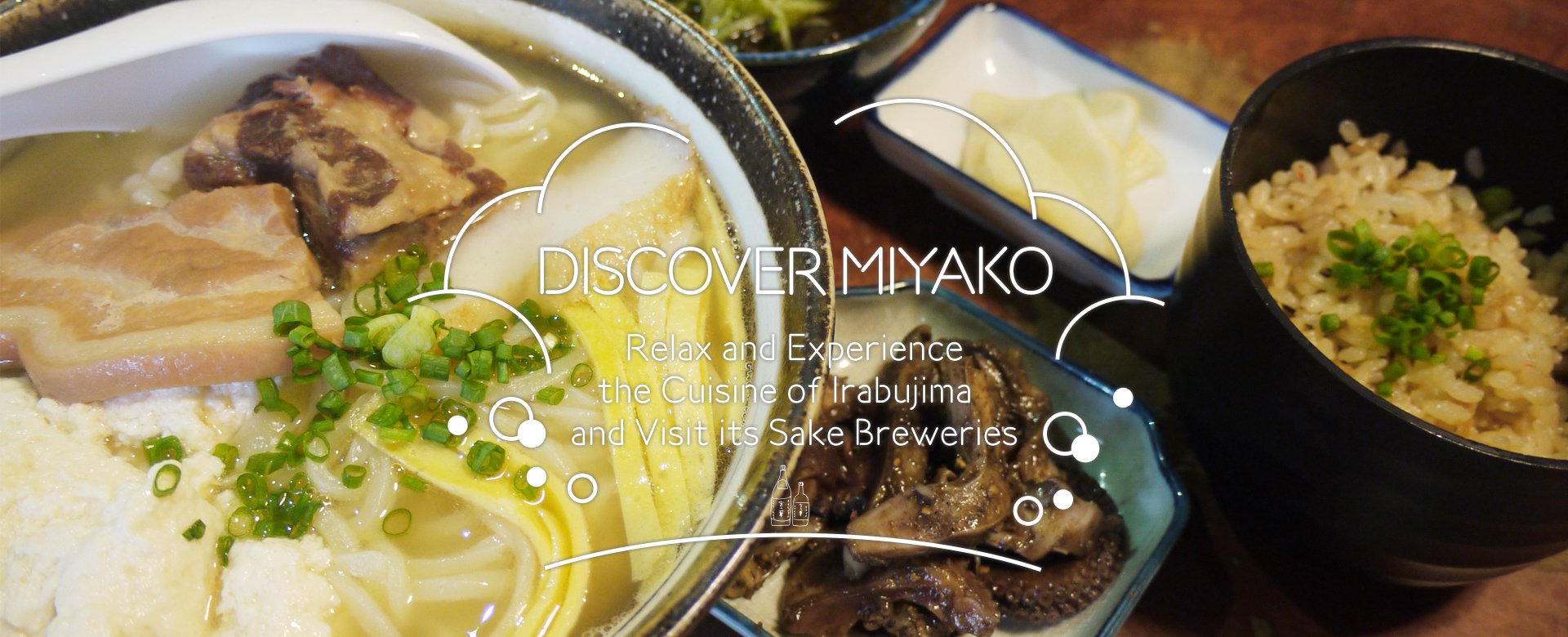 Relax and Experience the Cuisine of Irabujima and Visit its Sake Breweries
Due to the Covid-19 pandemic, programs can be changed. Please confirm with us when you make a reservation.
01.

Miyanohana Shuzo Sake Brewery

Stay time:30 minutes
From the Shimojishima Airport, visit two sake breweries.
This tour is recommended for sake enthusiasts and repeat visitors to Miyakojima and Irabujima. First stop is Miyanohana! This awamori brewery was given its name in 1948, meaning "we like a flower of Miyako that keeps blooming in people's hearts, even if it is very small". One of the brewery's awamori won the highest rating at an international contest. They also have a different awamori only available at the Shimojishima Airport. Miyanohana Shuzo also accepts brewery tours by a prior reservation. Due to the limited number of staffs and the brewer's deep commitment to its production practices, it may not be able to accept visitors at times. Contact the brewery before including it in your itinerary.
Miyanohana Shuzo Sake Brewery
Weekdays only, advance reservation required. Please let us know the date and time by phone or email.

https://www.miyanohana.com/contact

info@miyako-guide.net
02.

Kame, Irabu Soba Restaurant

Stay time:1hour
Despite the laid-back atmosphere of Irabujima, Kame gains popularity every year and there is usually a long line waiting in front of the restaurant.
The restaurant has a homey atmosphere that makes you feel as if you've returned to your grandpa's home. Kame's homemade noodles smoothly slide down the throat and their golden-brown soup is made from namaribushi, an additive-free Irabujima specialty. Once you have a bite, you will find yourself quickly eating the rest and finish it. This is definitely worth waiting in line for. Local customers request a set menu comes with noodles and juushii, Okinawa-style seasoned rice with various ingredients. We highly recommend it.
03.

Tokuyama Shuzo Sake Brewery

Stay time:30 minutes
The next destination is Tokuyama Shuzo, a sake brewery in the Sawada village.
As you come to the brewery and drive into the village, you can enjoy the view of the town's streets. Tokuyama Shuzo makes awamori with their motto "stay thankful and cordial." Seeing the owner's smile and gentleness, you feel his cordiality, that make you believe in his skill to make quality sake. Visitors can see the rice steamer, sankakudana (a machine for producing koji) and moromi (unrefined sake) storage among other facilities in the awamori brewery. Touring this brewery also requires prior reservation, so make sure to that!
Tokuyama Shuzo Sake Brewery
A telephone reservation is required by 15:00 the day before.

https://okinawa-awamori.or.jp/distilleries/tokuyama/

info@miyako-guide.net
04.

Sawada no Hama

Stay time:20 minutes
Sawada no Hama is located near Tokuyama Shuzo.
At low spring tide, the shallow shore retreat far out and leaves the bay dry. You see the landscape with dotted gigantic rocks that makes you feel like you've wandered onto another planet. The beach was once used as a shooting location for a music video and included in the list of the 100 best beaches in Japan in 1996.
05.

Irie Mangroves

Stay time:20 minutes
A small river, spring water and seawater mix with one another among the mangroves growing in the cove between Irabujima and Shimojishima.
The mangroves are home to many different creatures, including other plants, crabs, birds and fish. Come observe the different creatures while taking a rest. If you are interested in taking a closer look at them, we recommend that you take Mr. Kanizo's tour to experience more deeply the mangroves and crab catching.
Kanizo
For more details ,please visit the website.

https://kani-zo.com/

info@miyako-guide.net
Goal.

Shimojishima Airport
Travel Style
Choose from distance
Short Course

Shimoji / Irabu Area
Middle Course

Miyakojima central Area
Long Course

Miyakojima North / South Area