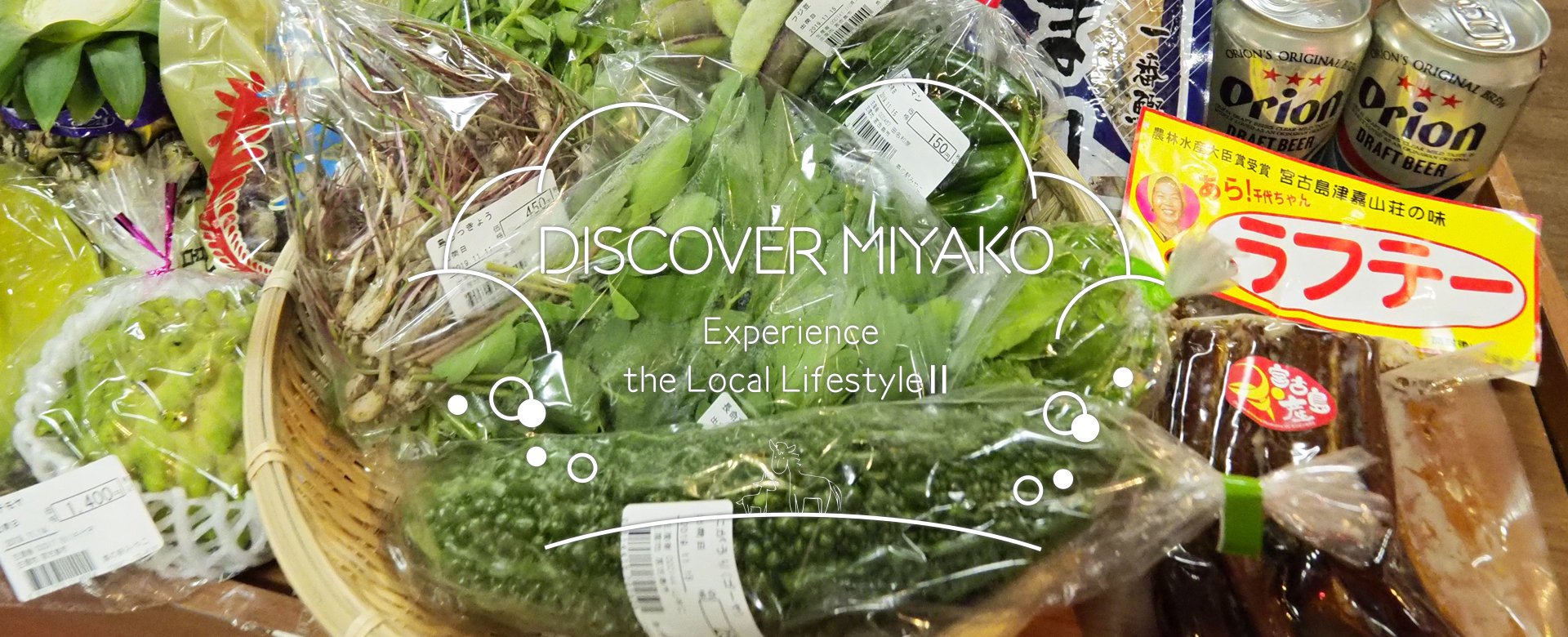 Experience the Local Lifestyle (Ⅱ)
This adventurous trip traces back through the history of the magnificent sights of Miyakojima, an island created from the limestone of the raised coral reefs throughout, and the locals' lives, bringing travelers to a destined experience inside mysterious caves enshrining the deity Ryugu.
01.

Island Station Miyako

Stay time:20 minutes
After arriving at Shimojishima Airport, head for Island market Miyako.
Here, you can get fresh vegetables, island specialties, souvenirs, meals and sweets. The shop is packed with the great products of Miyakojima. Why don't you go for a walk and have lunch? You can take a bento box. If you want to feel the island's picnic style, it is best to bring along a cooler bag, a picnic blanket and sandals in your suitcase.
02.

Alternative Farm

Stay time:1.5 hours
While you are in Miyakojima, Okinawa, you should try harvesting sugar cane and making sweets!
Sugar is a part of our lives, but few people might have seen, touched or bitten the sugar cane from which sugar is made. Alternative Farm Miyako strictly, carefully grows sugar cane without any agrochemicals and chemical fertilizers. Walking through the sugarcane fields in Miyakojima is certainly a unique experience. Especially Miyakojima is the one of the very few places in Okinawa where habu snakes are not inhabited so you can feel safe walking around!
Alternative Farm
For more details ,please visit the website.

https://alternative-farm.com/
03.

Maehama Beach

Stay time:30 minutes
Go to Maehama Beach, the pride of Miyakojima, is known for the most beautiful beach in the East.
The white sand beach, about 7 kilometers in total length, is amazingly beautiful. The secret of the clear blue water is from its whiteness of the sand. Just watching the waves come and go, you feel very pleasant. The sea is a transparent blue in afternoon hours, while a shining golden appears during the sunset time.
04.

Maipari Miyakojima Island Tropical Fruit Park

Stay time:1hour
Located next to Maehama Beach, at Maipari Miyakojima Island Tropical Fruit Park, visitors can find rare plants, pineapples, shima bananas and other southern tropical fruits.
You will feel as if you are wandering through a tropical jungle. Don't worry even if walking is not your thing, visitors can ride a cart with the tour! Enjoy a 25-minute ride-tour through the garden. Furthermore, you can interact with a goat, ride a Miyakouma horse, and also harvest the vegetables and fruits grown at Maipari. Pick mangoes in summer and melons in the winter. Fully enjoy Miyako's fruits!
05.

Kurimajima

Stay time:2 hours
Did you like feeding the cute goats at Maipari? How about take a goat for a walk in Kurimajima?
Join goat`s laid-back life-style and let`s walk around Kurimajima together. Strolling around with the goats, you see and find different views from just driving a car. Let's take our time, walking slowly like goats in Kurimajima.
Goal.

Shimojishima Airport
Travel Style
Choose from distance
Short Course

Shimoji / Irabu Area
Middle Course

Miyakojima central Area
Long Course

Miyakojima North / South Area