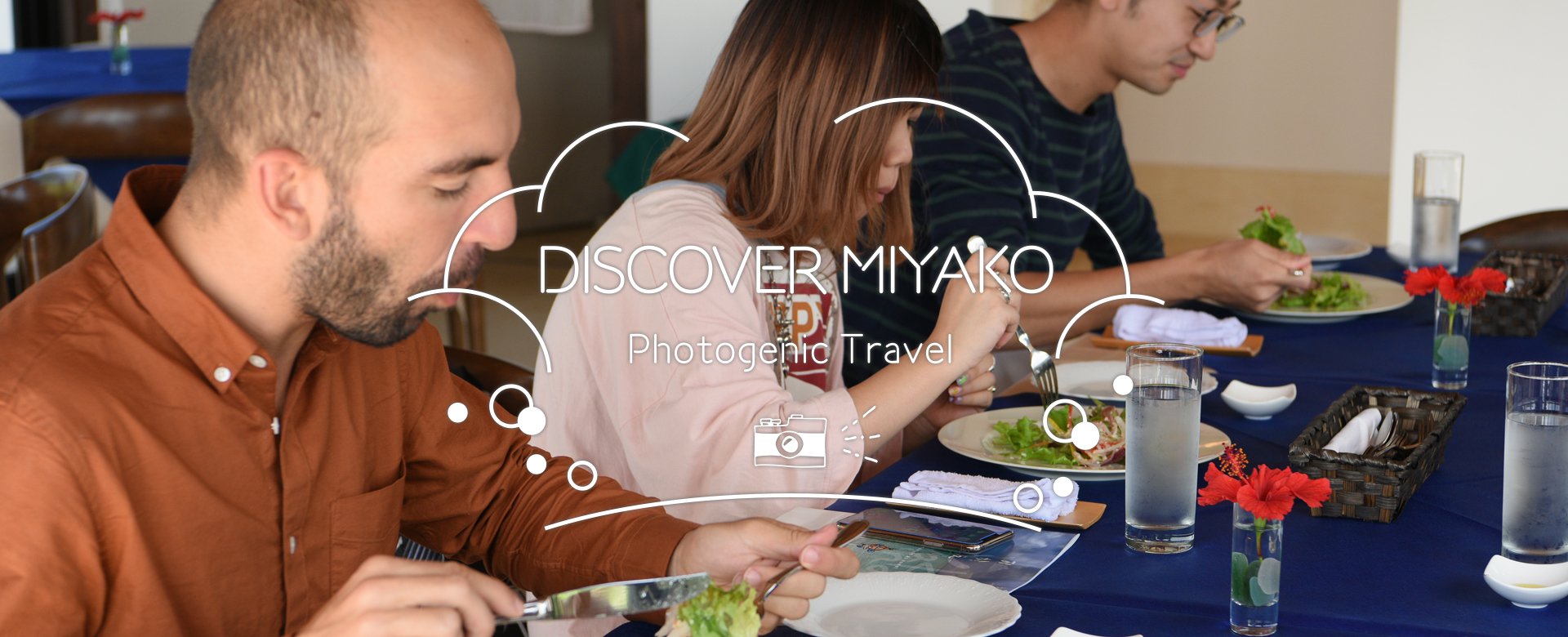 Photogenic Travel
Experience the stunning blue of Miyako's seas and the other colorful, photogenic views and tasty cuisines of the southern island. Relax in a café or by the sea. Recharge yourself in retreat designed for a mature clientele.
01.

the rescape

Stay time:1~2 hours
From Shimojishima Airport, first go to "the rescape," a hotel that still looks brand new.
The hotel is located in Gusukube district in Miyakojima. Behind the hotel is a forest and there is a beach in front of it, which is like a private beach. You can have lunch here and refresh yourself with tasty food. Their special Miyakojima-style dessert is also recommended.
02.

Aragusuku Beach

Stay time:30 minutes
After lunch, go to Aragusuku Beach, a popular snorkeling destination.
The shallow sea with its inner reef has countless coral reefs providing habitats for a variety of fish, sea anemones, sea turtles and many other creatures. The view from the slopes leading to Aragusuku Beach is so beautiful that drivers need to concentrate on driving and be careful not to get captivated by the view. You can spend your whole time on the beach just watching the shining sea, but in warmer seasons, we recommend that you also check out the beauty of the world under water.
03.

Miyakojima city craft experience village

Stay time:1.5 hours
The next destination is Miyakojima city craft experience village, located next to the botanical garden.
Knead a clay to make shisa. Learn how to do shellwork to make yourself a souvenir. Dress yourself in colorful Ryukyu costumes. In addition, there are also experience-classes such as woodworking, pottery and cooking local cuisine at this village. You can also rest and enjoy the plants or watch the Miyakouma, one of eight indigenous Japanese horse breeds.
Miyakojima city craft experience village
For more details ,please visit the website.

http://miyakotaiken.com/

info@miyako-guide.net
04.

Cafe Street on Irabu

Stay time:30 minutes
After enjoying the many experience-classes there, let`s go to the cafe street, where is recently getting popular in Irabujima.
Cafe street is a street where luxuriously spacious villa-type hotels and similar buildings are. Those buildings are facing to the ocean and feel very private since the inside is mostly hidden from the street. It is a perfect place to feel relaxed and spend your time just watching the sea. This is one of the reasons why it is recommended. You can also visit the café in the hotel to check out the hotel where you would like to stay next time.
Goal.

Shimojishima Airport
Travel Style
Choose from distance
Short Course

Shimoji / Irabu Area
Middle Course

Miyakojima central Area
Long Course

Miyakojima North / South Area