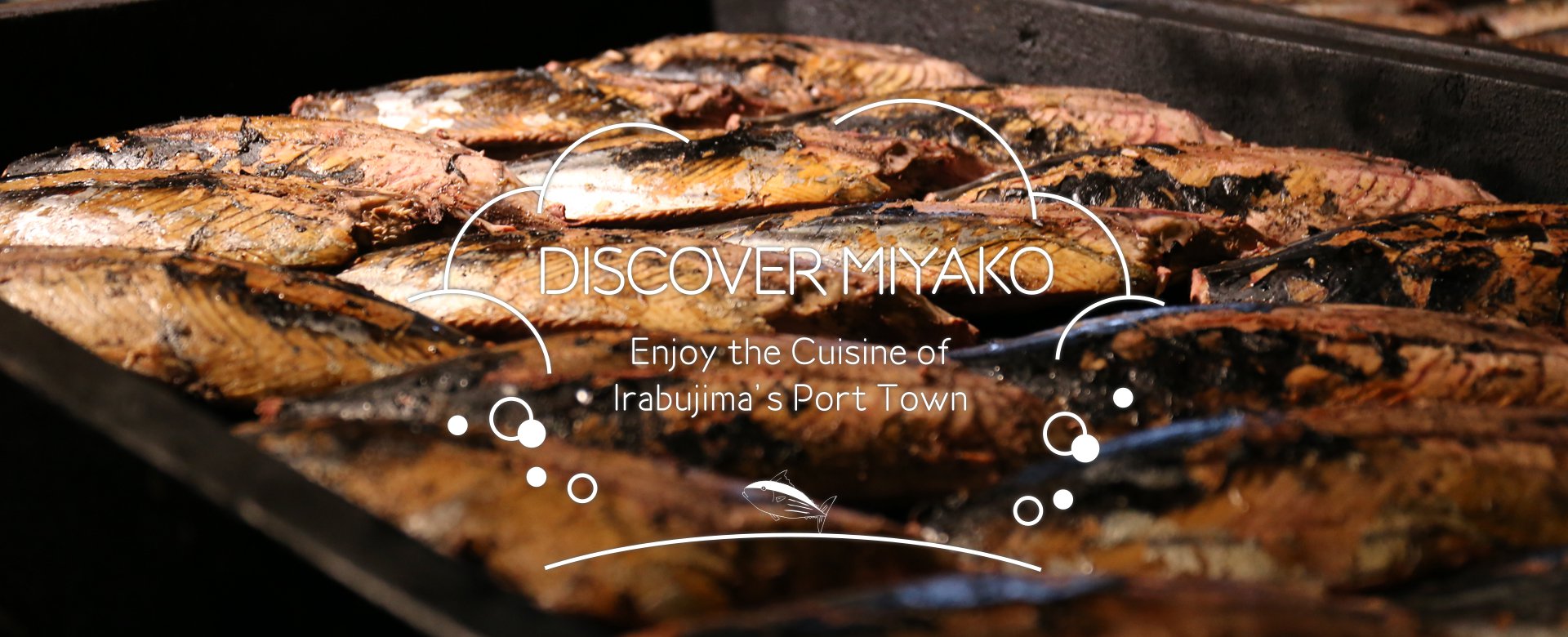 Enjoy the Cuisine of Irabujima's Port Town
The fishermen of Irabujima's Sarahama Port bring in a catch that is among the largest in Okinawa. The port town is full of fresh seafood, including bonito and other tunas. Eat them, cut them up like a fisherman, or try namaribushi, a local specialty. This gourmet travel destination is packed with the attractiveness unique to a port town.
01.

Sawada no Hama

Stay time:10 minutes
Leaving Shimojishima Airport, your first destination is Sawada no Hama.
Large dot-like rocks are all over the shallow shore. When low spring tide comes, the shore gets dry far out. This scenery makes you feel like you've wandering onto another planet. In 1996, Sawada no Hama was listed in the 100 best beaches in Japan. This model route gives you experience to fully enjoy the seafood of Irabujima.
02.

Sawada Yarabu Road
Roadside jalap trees, terihaboku in Japanese, with view of sugarcane fields spread endlessly.
Yarabu Road represents atmosphere of Irabujima. You can enjoy driving along Yarabu Road and feeling of island time that hasn't changed for many years. The jalap trees stand strong against the ocean wind, and have been planted for a long time for protection of the typhoons wind and tides. The large and round berries of jalap trees produce the high quality oil that has traditionally been used for lamp fuel and also for a medicine.
03.

Sarahama Port

Stay time:1~1.5 hours
The fishermen of Irabujima's Sarahama Port bring caught-fish, the largest amount in Okinawa.
The port is home to many boat owners by brave fishermen. As many fishermen come to the port, we recommend that you walk the port and see what they've caught. If the weather and timing are right, you can also see the fishermen unloading their catch from the boats. At Sarahama Port, of course you should eat the fresh seafood. Let`s try fresh bonito and maguro at「Oh-banmai Dining」,which is directly managed by fishenery corporative and is located inside of 「 Insha`s Station Sarahama」at Sarahama port.
Fisherman experience
Please apply for the guided Fisherman experience in advance.
To apply, please email to Hitotokisampo tour.
A telephone reservation is required by 17:00 the day before.

0980-73-7311

hitotoki@plannet4.co.jp
04.

Tomori bonito Processing Yard

Stay time:20 minutes
Go up the hill by Sarahama Port and you will see the Tomori bonito Processing Yard, they produce namaribushi made from the bonito of Sarahama Port.
Namaribushi is softer than katsuobushi (dried bonito) prepared by boiling and heated bonitos before carefully smoking them. This condenses the umami of the bonito and preserves them. The Tomori bonito Processing Yard smokes the bonito in the Tebiyama style, the most ancient process in Japan and said to be a legendary technique. If the time is right, you can watch the bonito being roasted over Casuarina wood to make namaribushi.
Tomori bonito Processing Yard
A factory tour must be reserved by 17:00 the day before.

info@miyako-guide.net
05.

Toguchi no Hama
After fully enjoying the bonito, continue on to the beautiful Toguchi no Hama beach.
At the arched beautiful bay, you can overlook whole beach. Sit and rest on the sand or walk barefoot along the beautiful, fluffy white sand beach. You will find it somehow nostalgic, tickling and irresistible.
06.

Stroll through the Villages of Irabu and Kuninaka

Stay time:20~30 minutes
Look for lesser-known cuisine as you stroll through Irabujima.
If you want something cold, go to the Shimoji Supermarket where you can feel is the local atmosphere. Their limited brown sugar ice cream is also a must-try. When you are craving for little snack, check out Nakayukui Shoten and try their satapanbin or sata andagi (Okinawan sweet deep-fried bun, similar to a doughnut ). The crispy, fluffy texture and sweetness of satapanbin is something beyond your imagination.
Goal.

Shimojishima Airport

Welcome back to Shimojishima Airport! How was your 16km three hours cycling tour?
Travel Style
Choose from distance
Short Course

Shimoji / Irabu Area
Middle Course

Miyakojima central Area
Long Course

Miyakojima North / South Area