The island filled with "nature" and "MONOZUKURI". "MONOZUKURI" is to build, or make something.
This makes the life of people in Miyako-jima plentiful.
The tiny triangle island, floating between the Pacific Ocean and the East China Sea. Whatever it's tiny, there is a nature with your eyes wide open. Instead of this, there are also lots of things that "don't "have. That's because "MONOZUKURI" makes roots and supports the people in this island.
Like trees of Fukugi(Garcinia spicata), rooting our mind.
The small signboard which is put by the roadside is written a name of the shop simply. The mark on this top is Fukugi as its motif. This includes the wish in order to root "MONOZUKURI". The owner who is from Irabu-Jima said, "Leathers are the things what we can use for a long time if we trim, and become tasteful." This shop comes from as he likes these tastes of leathers, and use them for his MONOZUKURI. Why this all stared is seeing a broom in an artisan's atelier when he worked at a sushi restaurant in Asakusa. The broom was the one of 40 years ago, but was trimmed well and often used naturally.
There is nothing, so make it myself.
I want to make tools which are used for a long time. Thinking of my future when we got a child, imagine myself of " Doing MONOZUKURI even to get old." Since returning to Miyako-Jima, I decided that MONOZUKURI would be my occupation. Almost everything in this shop is handmade. The door made of tin and also the shells which sandals displayed on. "There is a beautiful nature in Irabu-Jima and also Miyako-Jima as common. However there is nothing but a nature, so I make everything I need myself." In a day off, he goes to the beach near here with his two kids and so on. How does the nature in this island effect his MONOZUKURI?
The original pair to get here is only for you.
These sandals displayed in his shop are "the ones which are designed from way back." The sandals are really simple shapes, so may not be the "fashionable ones". However, because they're simple, are excellent with the function as a tool, comfortable to wear, and fit our feet definitely. Even though orders come to him from many prefectures on the internet or so, he refuses these orders so far. Why is that is because he wouldn't be able to take measurement by himself of customers' feet if they don't come directly. If so, the perfect sandals that fit their feet definitely won't be offered to the customers and they won't be happy, either. The owner thinks that way.

Making sandals carefully one by one. Sizing, cutting leathers, shaving, and stitching. If a customer who wears the sandals for many years wants, the owner sometimes re- covers the soles to maintain, makes sandals clean again, and give them back. As those his conscientious works, it takes about 4 months for customers to receive the sandals. And for now, so many sandals have now been ordered. The only one and the best fit original sandals in the world which we can get just only here for ourselves.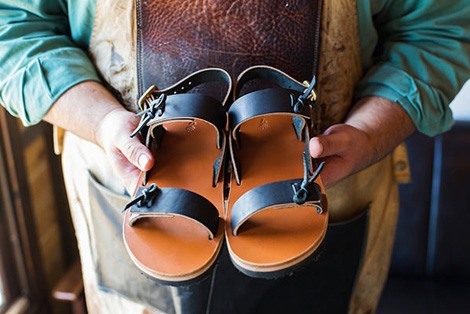 The island which is alive of the mind, " MONOZUKURI".
There is a proverb that "Ikimusutou douwa -wa, nusu dou nnutsu" in Miyako-Jima and which means "Farm animals and tools last a long time by the owner using with great care".In this island which people have the mind of taking good care of things, there are handmade warmness things everywhere on this street. They fit into the company, and generate the gentle atmosphere.
このテーマの主な撮影地
長浜(来間島)

住  所:

沖縄県宮古島市下地来間地区