With the amusement park named "nature",
Dad and Mom and of course kids, learning and playing outside freely.
"Dad, why is the sky so huge and the sea so blue?"In this island, the magnificent nature which you scarcely experience in the city, is open wide and wraps the people, adults and kids gently.Including tons of pastime and unforgettable studies.
Blue in the sea, plenty colors of shells,
playing with fantastic colors in nature.
The scene of the sky and sea which is like drawn with only gradations of blue. The white sand touched us softly, and this wraps our feet gently when we start running. "Wow, it is cold!" Playing with the waves to break on the shore and retreat, a cheerful voice of kids echoes. Running around, touching water, making a ball of sands, and collecting multicolored shells...they seem to be addicted to the nature in this small island quickly. In front of the plentiful nature, adults can feel like children again. More than saying to make the kids play, we chose a trip to Miyako-Jima for us to play with the kids all together.
Fascinated by various ways of "blue".
Going downstairs, we arrive at "Kaityuu kouen(a park in the sea)" where we can get into the sea. Through windows in the bright blue space,we are able to see "Ruri-suzumedai(Sapphire devil)", "Kakure-kumamoni(Common clownfish)", "Aigo(Mottled spinefoot)", and so many multicolored fish swimming. The fish welcomes us first is "Hana-chan" as a "Hanamino-kasago(Red lionfish)". Even to go to a cafe, there is a beach in front of us. Just because this is a small island, we feel the sea is a familiar existence. Although there are lots of beaches here, as each of color in the sea and scenes is a little different, we don't get tired.

There are several good spots for snorkeling around this island. We will try to get into the sea actually. Since a diving shop plan this snorkeling tour, it's delightful for us to try easily. The transparency in the sea is so amazing that we can see the bottom of the sea, and fishes swimming with us well. As swimming, feel like flying in the sky with fish.
Full of life force. Touching animals and plants in the southern island.
Miyako-Jima belongs the subtropical zone oceanic climate with the high temperatures and humidity. The annual average temperature is 23 degrees centigrade, and is warm in all seasons. Plants peculiar to this subtropical zone are a little different from plants what we see usually, even just watching these is interesting. Arriving at a theme park where we go around with a cart in, a stuff there explains us carefully.

"Hikagehego(Flying Spider-monkey Fern)" is a plant which exists from age of dinosaurs. This is "Miyako-zenmai", families of ferns. You can boil this for eating. This is "Kuwazu-imo(Alocasia odora)" with a big leaves. Just as this name, you will get food poisoning if you eat this. "Tokkuri-yashi(bottle palm tree)"has cavity inside, and is said that we can refresh our mind when we cling to this. "Miyako-Uma", one of the native species in Japan is friendly, and had played an active role as an agricultural horses. Although these horses faced extinction because of mechanization of agriculture, 35 of them in this island are now protected as a natural treasure in Okinawa.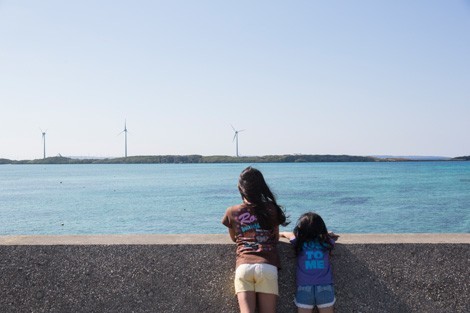 The island and people respecting the nature conservation.
As Miyako-Jima is a small island which doesn't have any mountains and rivers, people here are taking good care of water, the mind of doing so with nature and environment has existed. The scene looking a windmill far apart, which people protect underground water, save the sea with coral reef, and take good care of energy, might be the one of just like Miyako-Jima.
Treasure named "memory" ,
creating the time with family.
"Shimajiri-gun" which is in the north of the island, has a mangrove forest. There are plentiful waterside environment with subtropical characteristic in Miyako-Jima which is surrounded by the sea, the mangrove is a plant community in brackish water mixed with seawater and fresh water. The mangrove here reaches about a kilo-meter long, and is the biggest in Miyako- islands. Watching animals and plants slowly with a sea kayak. Right, left, right, and left... Matching the breath between parent and child, and propel with oars. We can see many kind of birds and crabs like "Ohashiharagani-modoki", "Himeshiomaneki", and "Rurimadarashiomakinegi".

Well, after playing fully, let's have a meal. Doing BBQ with watching the sea is really special than usual. The family time with lots of nature. Hoping this will be the precious memory of the trip for kids which remains in their heart.
このテーマの主な撮影地
OHAMAテラス

住  所:

沖縄県宮古島市平良池間146

電話番号 :

0980-885-2705

営業時間 :

10:00〜18:00

イムギャー
マリンガーデン

住  所:

沖縄県宮古島市城辺友利地区

島尻マングローブ林

住  所:

沖縄県宮古島市平良島尻地区