The purpose of this trip is to eat!
The charm in this island is seen from foodstuffs.
Feeling the charms of Miyako-Jima through the food, the epicures' journey. Mozuku(a cladosiphon okamuranus), Na-be-ra(a sponge cucumber), Miyako-zenmai(a flowering fern), Ohtaniwatari(an asplenium antiquum). Miyako-beef and Yashigani(a coconut crab). Since there are lots of yummy food in Miyako-Jima, shall eat them all until full stomach.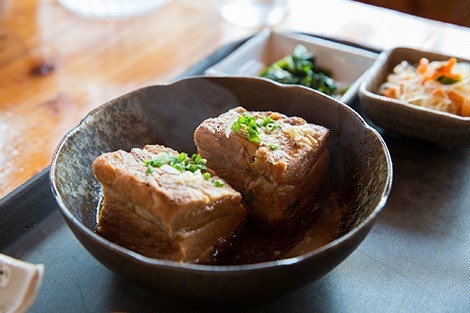 This is the island having delicious everywhere!
One of the amusements on trips is to taste foodstuffs at the land. Meeting the foodstuffs which we've never heard of or seen in our hometown, and the meals which try them cautiously at first and become favorites. Feeling like being able to see the real figure of this town with an eating house which local people love, seems like it was already there since a long time ago, and we can't find if we just visit around popular sightseeing spots. That is why, traveling around the foods, we may have a pleasant trip to feel undecorated Miyako-Jima.
Loved the local people,
the taste of "Miyako-soba" noodle.
"Miyako-soba" is a fine noodle of no crimps. Although this has almost the same appearance to Okinawa-soba noodles for now, this is characterized by foodstuffs like boned rib and boiled fish paste are hidden under soba-noodle.It tastes light, and is cooked in good stock.The inside of restaurant is crowded with both tourists and local customers.Going to "Atarasu-Ichiba(a market)", we could know well that the key industry in Miyako- Jima is agriculture. There are big wax gourds, Ohtaniwatari, Manju(a papaya), Nngyana(Nigana=Ixeris dentata), and Suizenjina(Okinawan Spinach) which is called "Handama" in Okinawa, and "Parudama" in Miyako-Jima.Many kinds of those vegetables in this island are lined. Because we're not used to hear those vegetables, become to be interested in how they taste like.
An Island of various colors of flowers and fruit.
Talking of "Miyako-Jima", mangos are indispensable.The place we went was a tourist farm of tropical fruits and bougainvilleas.Not only Apple Mangos but also Keitt Mangos which grow big still as green, and said to be "the dream of mangos" are raised, and we can see them here. After viewing the southern flower of bright bougainvilleas, will have mango soft ice cream!
Taste sweet slightly, flavored of mangos.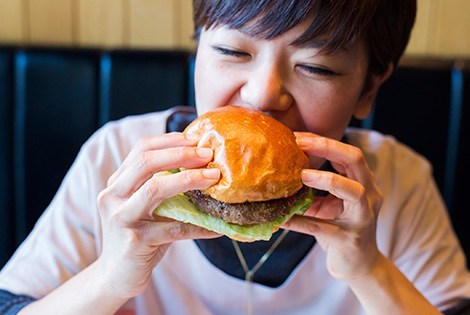 Taking a big bite with full marks of hearty Miyako-beef hamburger!
We won't say to be full yet. The hamburger shop which we can have the one used the putty made of Miyako-beef, and is enough to eat. This burger is sticked as it's Miyako's, buns are used at "Soraneko-Juujisha" which is a popular bakery in this island. Using knives and folks is ok, but we just use hands and have a big bite this time.
Satisfied with stomach and mind.
"We sprinkle some bait previously, and get these to the seashore the day after a rainy day. What bait we use is a secret." The thing what a woman who has an appealing smile and said like these, brings is a "Yashigani(a Coconut crab)". Its claws are so strong that they can cut coconuts up. This is characterized with its blue body, and the taste of this is light as a crab. About for a month after they catch Yashigani, give them some apples as bait. It is said by having their body inside clean and finally cook them, the bad smell of its innards is disappear and become delicious. A Nigiri(a hand-rolled sushi) of Miyako-beef, and Takikomi-Gohan(pilaf) of Ikasumi(Squid ink). With comfortable feeling of fullness as delicious dishes come one after another, the night advances.

Taking a break rubbing our belly.We still think in sleepiness. There must be many more "delicious" things what we don't have yet, in this island. However, it's not a big deal. Because when we go to sleep a night, are getting to be hungry soon, aren't we?
このテーマの主な撮影地
あたらす市場

住  所:

沖縄県宮古島市平良西里1440-1-1

電話番号 :

0980-72-2972

営業時間 :

9:00〜19:00

魚宮

住  所:

沖縄県宮古島市平良西仲宗根3-1

電話番号 :

0980-72-6595

営業時間 :

11:30〜14:00
16:30〜22:00