On girls' journey in Miyako-Jima is enjoyable for shopping, beauty salons and visiting around cute cafés in greedy.
Sophisticated cafes are made by the storekeepers' mind and the power of places.That's why, even though telling "cafe" has a huge difference between storekeepers and places.Beautiful scene of Miyako-Jima and the menu used local food, and having a good sense of cute cafe inside.Being able to have everything, journey and cafe are well-suited to each other.
In the morning, get some bread and go outside.
It is fun to visit around cafés when we go on a trip.That's because we could spend the time which storekeepers' personality and individuality of the land are mixed in.Some people say every cafe is the same, but I think that's not true.Beautiful scenes in Miyako-Jima and the menu used the local food and having a good sense of cute cafe inside.Being able to have everything, journey and cafés are well-suited to each other.

Let's get some bread for breakfast.Going to a small bakery bordered windows with light green are cute.In front of the shop has a counter inside, there are tables made of wood, and old chairs used in the park in France, suit very much.Having a talk about what to do today vacantly, have a big bite of buns fresh from the oven.The seasonable sunlight felt the spring coming is gentle."Yummy!" taste soft, and the aroma of simple flour.Simple and familiar taste make me awake my joyful memory in childhood.
The cafe in this island which spicy curry is good.
As there are beaches untouched everywhere in Miyako-Jima, it's also fun to stop on the way and find our favorite ones.After a while, we arrived at a cafe which spicy curry is good."Because I like music, I wanted to make the space to drink tea and feel the sound.This is "Manatsu" means "hot", so I decided to serve the spicy curry here.I especially like the season of early spring which has something excited going to be warm soon.

"This spicy curry feeling the breeze at the terrace seat set in the garden is really tasty that really suited so much with this climate in Miyako-Jima.Although we had buns just now, there was nothing on our plates when we noticed.
Find your favorite one,
spending time and doing nothing special.
After that, spending time leisurely at a cafe has lots of books.Not caught in time, having a good time in a relaxed mood is one way of our enjoyment for journey.Why we are so calm might be as the the shopkeeper's personality.

" In Miyako-Jima, we can fix the rhythm of life ourselves.Although I've never cooked before, encountering vegetables in this island when I moved here,I started cooking unexpectedly.As I'm glad to hear the customer say "yummy", for now I make all dishes by myself in this cafe.I think it is my role to cook in Miyako-Jima.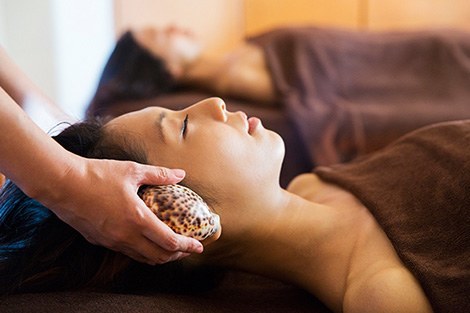 Beauty salon and shopping...
girl's journey is really greedy!
Coming to this island, we have to enjoy many more things not just cafés. The beauty therapy used essential oil of Gettou(Alpinia serum bet), and Kucha(mudstone) contained minerals richly in Miyako-Jima. "The shell therapy listening to the sound of waves", pressing a shell to ears, feeling like hearing the real sound of waves and relaxed. Will have a drink at a fashionable bar comfortably at night. For souvenir and ourselves, shopping shouldn't be forgotten. It will be perfect that it has an individuality only ,for trip as well as good sense. Good sensed hand towels and T-shirts designed the nature and culture well in Miyako- Jima are the best for souvenirs, aren't they? An encounter with things to get just in here is fun.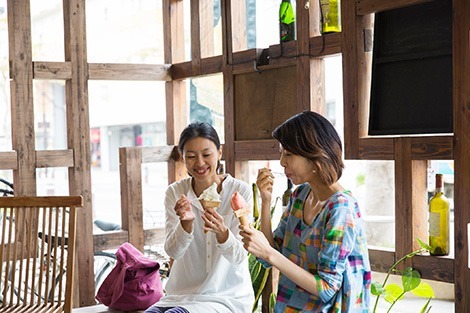 Looking at the blue sea from the good view cafe.
On the final cafe of this journey will be the seaside one looking at the sea after all.Transparency along the beach. It's gentle light blue in shallow, and dark blue towards to the offshore.Why is this sea in Miyako-Jima so beautiful and relax our mind?Thinking like that, we keep looking at this without being tired forever.A variety of journey will be end finally, but we may have one more dish before going to the airport.That's because we can't have Awamori gelato except here, can we?