Go to the colors of plenty island with a camera.
Will go on a trip having a camera. It'll be better alone in this situation. Not forced to hurry, or pushed for time, just enjoy the scenes there. Coming to this island, will meet the "picturesque landscape". Then cut them off with own viewpoint, that will be...a splendid piece!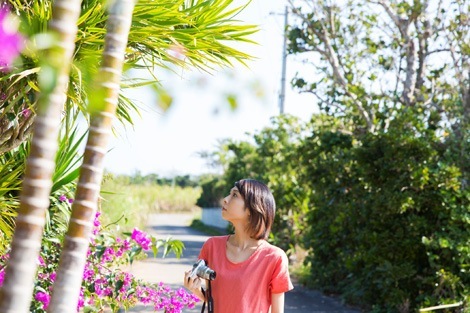 Taking pictures as I like.
I like taking pictures, but in the daily life, I sometimes don't know what to take. I could say it's not a picturesque if I take things really too close to me....Although I bring a camera with me when I go on a trip. I feel like it has no meaning to take same photos that we see in the guide book, and we don't really catch the memory when we just take a souvenir photo as we do usually. That's why, I decided to bring a camera and go around alone this time. Not be anxious about anyone, or worry about time, just face the scene in this island. I'll take some photos as I like then.
The scene from walking on the road.
Although saying the trip in islands, a rental car is standard, it might be good to get off the car sometimes, watching the views and walk on the road. What about a rental buggy? At a narrow alley where cars won't go through, colorful flowers might welcome me. Sugarcanes taller than me, hens taking a walk, and "Ojii= an old man" and "Obaa= an old woman" working in the yard. Every time I hold a camera towards them, gentle smile will give me back, won't it? Just pressing the shutter of a camera without any thoughts.
Small and familiar, a tender island Kurima-Jima.
Kurima-Jima is a small island about 9 kilo meters around. There are just a few cafés and only one small village. The street as time stopped let me watch freshly. →The mango parfait dropped in at the cafe, used a lot of mangos purchased by a contracted organic farmer, can tell "the taste of the sun in the southern island". That brilliant orange sets off the picture remarkably.

Kurima Elementary and Junior high school in this island, there are only 6 students in total. Street photos taken by students are decorated in the school building. Scenes of the daily life seen from the students' eyes, are like there is everywhere but it's not. "Let's take a picture! " calling out to the students, and pressed the shutter of a camera. Felt nostalgia streets, and their little shyly smile, are branded on my memory.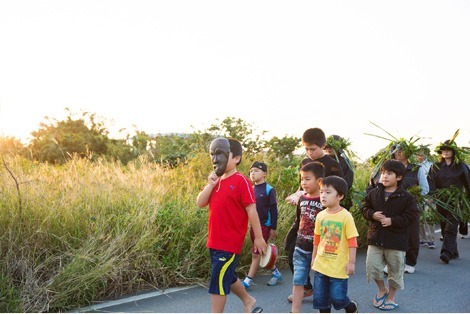 Meeting the culture which is respected for years.
Meeting the mysterious festival named "Nobaru-no-Satiparo= to ward off evil spirits". A boy is walking with a mask. Ladies rolling Kurotsugu(Arenga engleri)and Senninsou(Sweet Autumn Clematis) on their waist, holding the twigs of Yabunikkei(Japanese Cinnamon) in their both hands, walking after him. Starting the festival about the sunset, being shined by the setting sun, and done the Satiparo which is said to ward off evil spirits. Meeting the culture respected for a long time, there is something that rings a bell in mind as refraining from taking pictures.
Cutting the "Miyako-blue" from the view.
There are views I really wanted to take pictures when I visit in Miyako-Jima. The sea in Miyako-Jima is said "Miyako-blue", and has the color something special in Okinawa. Much more blue than the sky, this sea changes various expressions by how deep it is, I can't take my eyes off this. I won't think I have to take photos in good. I just turn my camera towards the scene there.

After dropping off the cafe and taking a walk in the village, I met cute old women in a small shop. Being in their chatter, the sun sinking quickly. Feeling like I could see the beautiful setting sun today. I ran to the sea in hurry. The round sun sinking into the horizon. Not holding the camera anymore, will just catch this scene in my eyes. In order to keep this scene preciously in mind.
このテーマの主な撮影地
来間島/来間大橋

住  所:

沖縄県宮古島市下地来間地区

野原のサティパロウ

住  所:

沖縄県宮古島市上野野原地区