Taking the daily life away and go on to a surfing trip.
A guy's solitary journey, having fun with hobbies.
If the man who's 40s, the job going smooth, and the private life also might be favorable. Although thing's going ok, how about trying to forget the daily life sometimes, and refresh yourself without any thoughts? It is a journey alone, and do whatever you really want to do.
Surf on the transparent reef.
Getting on a surfboard, looking for waves for a while. Looking at the horizon too long, I missed some waves. Well, that will be alright. Even if I'm satisfied with work and private life, want some time alone. At that time, holding a surfboard with a hand and going on a trip to Miyako-Jima.

Talking of a mecca on surfing, Miyako-Jima is not really the one. Still the beautiful sea extends endlessly, it's not crowded on the sea like popular surfing spots. I like this kind of looseness to be able to wait waves slowly. There are mostly reefs in the sea and waves easily break down so I repeat short ridings. The transparency was so high that I was scared to surf as if I would collide with the bottom of the sea for the first time.

Anyways, I feel great to surf on such a beautiful sea which no one interrupts me. Well, I will finish it for today after riding on some waves.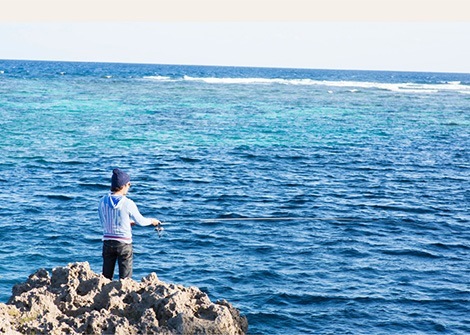 No matter how much I catch fish,
just having fun the time facing the sea.
After surfing, going to the sea again holding a fishing rod. Taking a walk near the sea, often seeing kids and local people fishing. The fish which have strange color and shape, are often caught. Not catching a big fish, rather than expecting to catch any fish, just looking at the sea, dropping a line into the dark blue one, feeling the sea breeze is comfortable.
Even if coming alone, satisfied with communicating the local people.
I make it a rule stay at an private inn when I go on a trip alone. People in Miyako-Jima are mostly friendly, because of this or not, travelers who come to this island also seem to be big-hearted. Staying at an isolated private inn, having a delicious homemade meal which is used many kind of foodstuff, talking with other travelers together.

Here is the island which stops the time. The thing we hear is just the sound of nature. A regular customer stays at least for 3 days. Getting up at 6:30, taking a walk, and having big breakfast at 7:00. Playing enough, having big dinner again at 18:00, and going to bed at 21:00. Doing like this, you become to get in shape. Food and nature as well, Miyako-Jima is a masterpiece as itself which the people in the island of Okinawa are also amazed.

Just doing what I like. Is it because Miyako-Jima is infinite to grant my selfishness? Although I came here to touch the beautiful sea and have a solitary time, was healed by people after all.
このテーマの主な撮影地
保良川ビーチ

住  所:

沖縄県宮古島市城辺字保良地区

イムギャー
マリンガーデン

住  所:

沖縄県宮古島市城辺友利地区